Cardiovascular Diseases (CVDs) are the leading cause of death globally resulting in the loss of around 17.9 million lives every year. In India, at least 2.8 million people died in 2016 alone due to CVDs. To add to the existing burden, patients with CVD are at a high risk of developing severe complications due to COVID-19. Hence, the theme for "World Heart Day 2020 — #UseHeart to beat Cardiovascular Disease" — is highly relevant now than ever before.
On World Heart Day, Dr.Satish Somayya Jeevannavar, Founder and CEO of Ai Health Highway, a MedTech startup, talks about how AiSteth — a smart stethoscope — can help reduce the learning curve for young doctors and healthcare workers who would have otherwise taken years to develop an ear for abnormal heart sounds. AiSteth can record, store and share heart/lung sounds from the patients in villages/PHCs, or elderly patients at home in cities and enable remote monitoring or tele-consultation with specialists who are based in cities, tertiary care hospitals. This could facilitate screening, early detection and/or better follow up for a specific subset of cardiovascular disorders.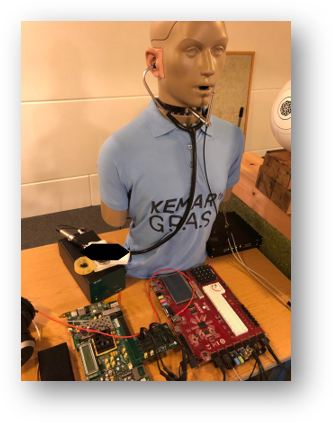 Prototype of AiSteth – a smart Stethoscope
Cardiovascular disease (CVD) has emerged as a leading cause of mortality in India…how deep and widespread is the problem?
Cardiovascular disorders are one of the leading causes of death not just in India, but in the world. More than 80% of such deaths occur in low and middle-income countries. Globally, the disease burden will exceed $1 trillion by 2030, as per the World Economic Forum. In our country, one in every four deaths and more than 60% deaths in adults can be attributed to CVDs, according to a study published in Lancet Global Health. 80% of the deaths due to CVDs are caused by ischemic heart diseases and stroke. India has pledged to bring down 25% of premature deaths due to non-communicable diseases by 2025, as part of a World Health Organization (WHO) action plan. It's a huge problem because a majority of these deaths, which are preventable, occur in the most economically productive age group.
Can early detection help reverse the trend? Do available diagnostics for cardiology serve the purpose of early detection?
Yes, early detection can definitely help reverse the trend. However, today's healthcare delivery ecosystem is mostly hospital-based and reactive, i.e, you wait for the patient to fall sick and reach the hospital. Most of the current cardiac screening and diagnostic investigations (blood tests, cardiac enzymes, ECG, ECHO, Angio, CT/MRI etc) are available only in hospitals and district HQs. Hence, a majority of Indians, ie, more than 60-70%, who stay in rural and semi-urban India find it difficult to access/afford these investigations. If we have to solve the problem, we need to focus on solutions which are easily accessible at the first point of contact for a patient ie at the primary/community care clinics and can help screen large populations and aid in early detection of cardiac disorders.
What are the reasons for missed diagnosis?
Though India has a four-tiered healthcare delivery ecosystem, the resources are mostly concentrated in the tertiary care hospitals in cities and district headquarters. There is a rural-urban divide in the availability of specialists, screening, and diagnostic landscape. Almost 80% of the specialists and trained staff are in metros while a majority of the population lives in rural or semi-urban areas. The diagnostics start with blood tests (for eg lipid profile and cardiac enzymes), which very few primary healthcare centres (PHCs) can carry out. The sophisticated machines for ECG, ECHO, Angio and MRI are also available only in the big hospitals, far from the villages. The shortage of doctors is another big reason. For India's population of 1.35 billion, we need at least 1 lakh cardiologists while as of today we have around 4,500 heart specialists. The lack of access to tests and specialists and logistics issues at the last-mile connectivity lead to a huge number of missed diagnostic opportunities at the first point of contact.
How and why did you think of an AI-enabled stethoscope?
We looked at the stethoscope since it is the most commonly used diagnostic tool in the healthcare sector. A stethoscope is available at the PHC and with minimal training even an ASHA worker can use it. Hence, we targeted the out-of-hospital segment in villages and small towns at the first point of interaction between a patient and the doctor. We realised that if we turn the stethoscope into a smart device, it can help in early detection. Our AI-enabled stethoscope AiSteth will help fresh MBBS graduates, nurses and ASHA workers in detecting the abnormal heart sounds. The impact will be huge because detection will be possible even at the health and wellness centres/PHCs in small villages.
Tell us more about AiSteth…the USPs and technology behind it, how will it help young doctors and grassroots health workers?
Our state-of-the-art acoustics device can record, store and share heart and lung sounds. These sounds, sent to a smartphone via Bluetooth, are converted into visual wave patterns. The tangible report in the form of visual wave patterns helps in better clinical diagnosis by bringing objectivity to the screening and diagnosis, thus reducing unnecessary tests and procedures. The prototype has been developed in collaboration with Sound Hub in Denmark and with research grant from Maine Technology Institute US. Sound Hub is the world's first sound technology and innovation accelerator for companies and entrepreneurs that want to be world-class in their field. The experts include top professionals from celebrated brands like Bang & Olufsen, Harman and the Danish Sound Network.
This innovation will help reduce the learning curve for young doctors and healthcare workers who would have otherwise taken years to develop an ear for abnormal heart sounds. Armed with an AI-enabled stethoscope, a health worker can record the heart sounds of a person in a village and stream it to specialists in cities. The most powerful impact will be when someone like an ASHA worker, a critical component in the last-mile healthcare delivery, can use it to screen pregnant mothers.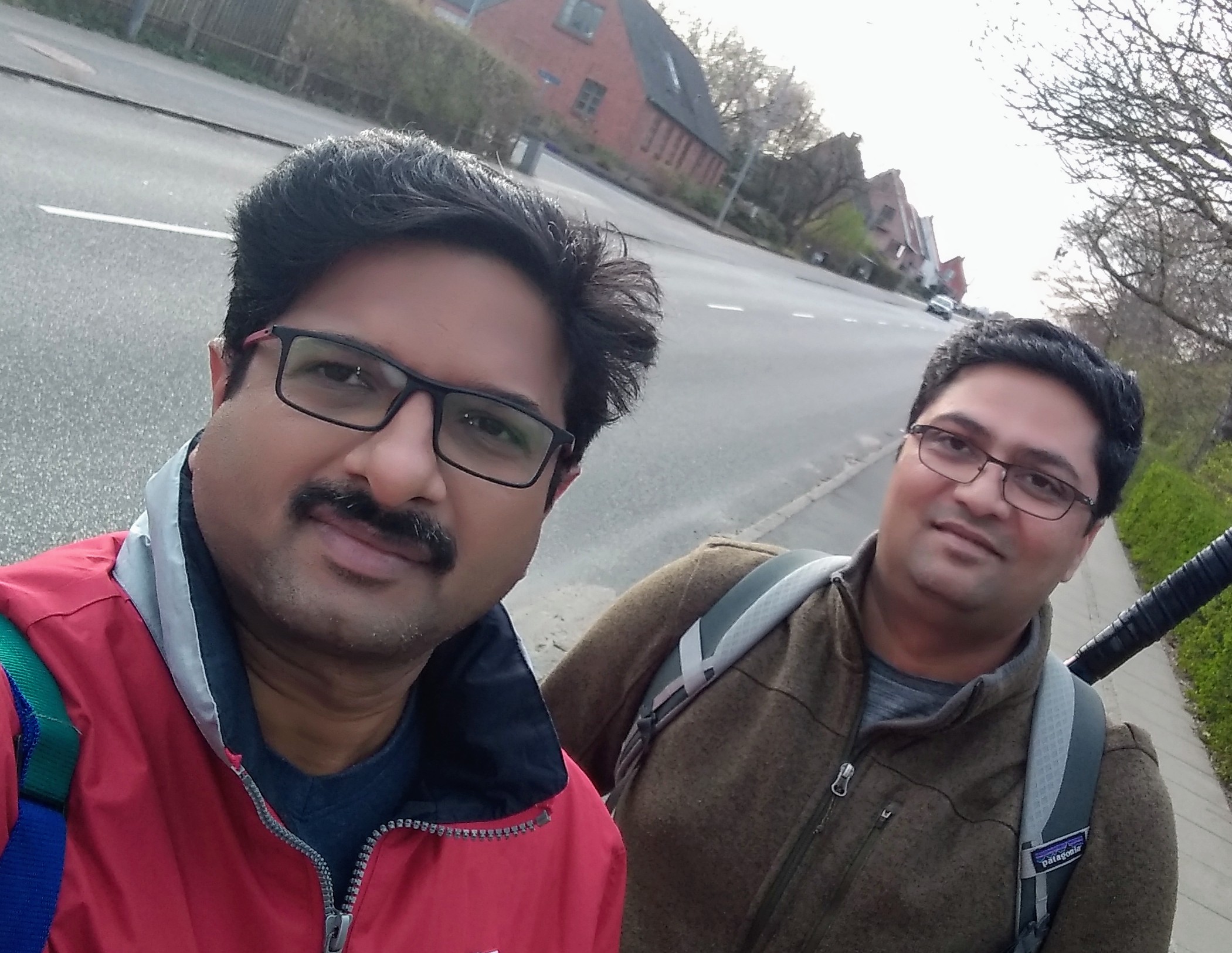 (Left to right) Co-founders of Ai Highway – Dr.Satish Somayya Jeevannavar and Dr. Krishna
Tell us about your collaboration with Dr. Krishna…how did you both team up?
We studied medicine together in the mid-Nineties in India. I have known Dr. Krishna for more than 20 years now. While I joined the Indian Army and spent the last two decades working in primary and preventive healthcare and pharma space, he moved to the US. Dr Krishna's expertise lies in public health and clinical research. Working in the med-tech space and building a medical device is akin to launching a rocket in space. It has a longer gestation period and is associated with high risk and high costs. Hence, you need a partner whom you can trust, who will be prepared for the long haul and who understands the problem statement. Both of us were passionate about disrupting the primary and preventive healthcare space. Hence, after a thorough market research in India, Asia-Pacific and the US, we decided to start Ai Health Highway to focus on screening, detection and prediction of health disorders. This is my third startup. In this organisation, I take care of sales, strategy, fundraise and innovation; Dr Krishna takes care of operations, product development and clinical research.
How stiff is the competition in the Indian market…how will your product fare?
We aim to disrupt the cardiology screening landscape, which is dominated by ECG, Echo and other hospital-based diagnostics. Our target is to connect the primary and community care clinics with the hospital-based ecosystem.
What kind of industry/ecosystem support have you received for the venture?
We secured our first R&D grant to build the prototype from MIT (US) and also got selected to Sound Hub in Denmark in 2019. The early prototypes were built in collaboration with Sound Hub and its experts in acoustics from Bang & Olufsen. Currently, our R&D centre is based in Society for Innovation & Development (SID) at IISC, Bangalore. In December 2019, Social Alpha led the pre-seed investment round with angel investors Mr Lakshmi Narayanan & Keiretsu Chennai.
In response to the pandemic, Ai Health Highway is also working on Covid Screening & Triage Solutions project, catering to 3000+ families in rural India. This initiative is funded by the CSR grant from Citi Bank. We were amongst the semi-finalists for Ayushman Bharat Start up India Grand Challenge, 2020. Our R&D concept for Mother & Child segment won the International Sound Awards 2020 in the health category.