Creation of a new category of 'patient' capital to invest in early stage start-ups which is willing to stretch the boundaries of Risk-Reward-Patience frontiers.
We have arrived at meaningful metrics to determine the measure
of success of social enterprises, and followed up with a relevant alternative
to mainstream venture investing models.
SUSTAINABLE GROWTH AND IMPACT DRIVEN
OUR INVESTMENT THESIS
Our Approach is to prioritise the Inclusive in Inclusive Innovation, Impact in Impact Investing and Social in Social Entrepreneurship. Markets have assumed low returns in certain categories due to lack of reliable data points but an innovation that solves problems at scale may deliver market returns but one needs patient capital and risk appetite to validate.
Why is there no surge in social investments?
Missing Entrepreneurs
Why is the market not catering to entrepreneurs who want to solve social, economic and environmental issues?
The entrepreneurial boom in our country, while generating employment and boosting trade, has actually impacted only a portion of India's population. Disruptive innovations in commercial sectors are ultimately enjoyed only by the technology-literate and salaried-class, and receive substantial endorsement from the industry and venture capital funds.
However, Social Enterprises striving to solve tough fundamental issues of much more deep rooted problems facing our society, particularly those harnessing technology based innovations, have been wanting for an ecosystem that provides support including but not limited to sustainable financing and risk capital.
Ecosystem Gap
There is a ecosystem deficit in the social sector. Commercializing high social impact innovations is where the investment money is most needed but least available.
Venture investors, including those in the impact investing space align their portfolios with more mainstream investment choices (with a social impact element) such as microfinance, rural supply chains, distribution platforms, consumer products and services aggregators.
There is little or no capital allocation to early stage science and technology based startups from impact investors. This is what we are changing.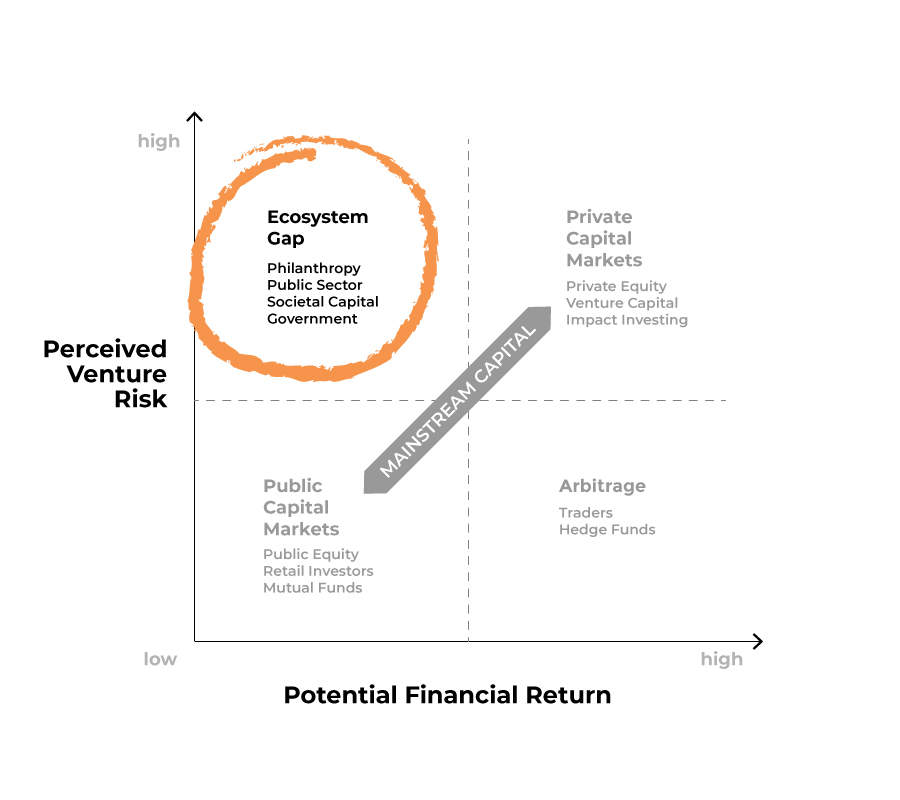 How can we create a surge in investments in the social sector?
Building Philanthropy 2.0
With the intent of philanthropy and operating model of venture investing, it is possible to solve some of the complex development challenges faced by the developing world today, create significant societal value, and help communities get out of the poverty trap.
Patient Capital
Social Alpha has created a new category of empathetic risk capital to invest in early stage science and technology based start-ups.
This type of capital is looking at the longer arc and the larger vision. It is willing to stretch the boundaries of Risk-Reward-Patience frontiers, due to the combination the challenges  in the social sector and the Deep-Science and Tech nature of the innovations.
This capital has three characteristics.
Aggressive on risk underwriting
Patient on the exit horizon
Generous on return sub-optimality
Redefining Success Metrics
Our focus on creating and supporting sustainable businesses for early stage entrepreneurs has a huge impact on the confidence of investors and philanthropists alike in opening up more funds towards this sector.
We have redefined success metrics by focusing on sustainability, affordability, user experience and impact rather than profits.
Additionally, the deal flow generated has the potential to surface businesses akin to microfinance, which become mainstream due to its better risk-return payoff profile, growth potential and scale, and they will go the route of traditional venture backed investments.