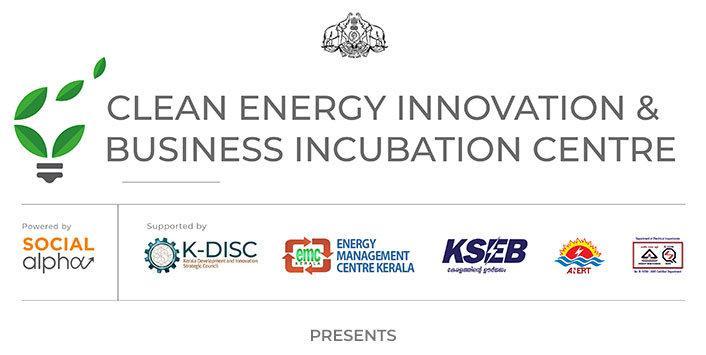 CEIBIC CleanTech Challenge
Program Overview
Clean Energy Innovation and Business Incubation Centre presents its first Edition of CleanTech Challenge.
Electricity is the fastest-growing source of final energy demand, and over the next 25 years its growth is set to outpace energy consumption as a whole. The rapid rollout of renewable sources such as wind and solar PV puts electricity at the forefront of clean-energy transitions, providing access to the nearly 800 million currently deprived and helping to cut air pollution and meet climate goals.
We are looking for innovators and entrepreneurs with transformative technologies that have the potential to bring about deep and irreversible social, economic, and environmental impact.
Applications open for CEIBIC CleanTech Challenge
Focus Areas
Innovations across the entire energy lifecycle from generation to consumption for a broad range of sectors and use cases such as
Smart appliances
Clean Cooking
Lighting
Roof-top solar
Standalone systems
Waste heat recovery
Low-carbon technologies
Cogen
Efficiency
Carbon capture
Electric vehicles
Clean Efficient engines
EV infrastructure
Battery tech
Renewables
Grids & Micro-grids
Battery
IoT
Cyber security
Edge of grid technologies and storage
Hydrogen storage
Metering
Billing
Losses
Demand-response
Low tension automation
Reliability and quality
Digital services
Who can Apply?
Pre-Pilot Category
For innovation looking for support primarily in product commercialization and Go-To-Market Strategy, which are:
Technology which is at a very early stage of development (lab/research), stage, but theoretical proof of concept exists
Prototype has been designed but not built
Early Prototype exists and early testing is underway/planned
Post-Pilot Category
For innovation which needs support in physical prototype development and testing, and has a quick (less than 12 months) timeline for MVP; including:
At an advance stage of product development where prototype exists and at least one pilot has been carried out or proof of concept has been physically demonstrated
Pre-commercial/fully functional lab prototype with some testing and feedback from users exists
The product is ready and is already in the market and is looking for scale-up
Preference would be given to Start-ups – registered in the state of Kerala or innovators
who are willing to establish their entity in Kerala*
Program Offerings
Winners to receive access to innovation labs for prototyping, techno commercial pilot opportunities, go to market support, pilot implementation grants and opportunity to pitch for pre seed and seed investments
Pilot Implementation Grant of Upto INR 25 lakhs
Access to testing and prototyping labs at Energy Management Centre – Trivandrum and Clean Energy International Incubation Centre – Delhi
R&D Support from Industry
Go To Market Strategies
Market Access Support
Design for Manufacturing Support
Mentorship Network
International Collaborations
Partnerships
Opportunities to pitch for equity investments of up to INR 1 Crore
Office space in Energy Management Centre – Trivandrum
Shared Services Support
Digital Service Credits
Incubation Support from Social Alpha
Successful pilots may also look have the opportunity to receive work order from the partner organizations
Important dates
Challenge Launch

22nd June 2022

Applications Close

22nd August 2022

Announcement of First Cohort

10th October 2022
Terms and Conditions
Terms and Conditions
Eligibility
Any individual or group of individuals, whether incorporated or otherwise, regardless of age and nationality, who has an innovative idea that addresses social and climate in India (though not exclusively), is eligible to participate.
Participating or proposed ventures should be independent entities, meaning that they should not be a subsidiary of an existing corporation or have legal ties to a government body.
Existing non-profits can participate; however, they should propose a new venturing idea or a new plan to transform their existing solutions into a more sustainable solution.
Category specific eligibility
Pre-pilot category
Any individual or group of individuals, whether incorporated or otherwise, with technology in the following Technology Readiness Levels (TRLs) may apply to the Pre-pilot category:
TRL 1: There are paper studies to support the technology's basic properties
TRL 2: Technology concept / application formulated
TRL 3: Proof of Concept stage/Active R&D has been initiated. This includes analytical studies and laboratory studies to physically validate the analytical predictions of separate elements of the technology
TRL 4: Basic technological components have been integrated to establish that they work together
Post-pilot category
Any individual or group of individuals, whether incorporated or otherwise, with solutions in the following TRL may apply to the post-pilot category:
TRL 5: Technology has been put together and can be tested in a simulated environment
TRL 2: Technology concept / application formulated
TRL 3: Proof of Concept stage/Active R&D has been initiated. This includes analytical studies and laboratory studies to physically validate the analytical predictions of separate elements of the technology
TRL 4: Basic technological components have been integrated to establish that they work together
Submissions And Participation
Submissions which are incomplete will be deemed void and disqualified from the competition.
Submissions should be the original work of the participant, and should demonstrate positive, sustainable and scalable social impact in India (though not exclusively in the region).
Participants agree to the use of their names, photographs, disclosure of their country of residence, and are required to cooperate with any other reasonable requests by the organiser relating to any publicity-related activities.
Participants are required to submit a declaration of good standing and solvency at the final stage of evaluation. If there is any change in circumstance that invalidates their good standing and solvency, the team is to immediately inform the organisers.
All participants own the rights to their ideas. Participants must properly acknowledge any trademarks, patented or copyrighted materials of others that are incorporated into the submission materials. Participants are responsible for obtaining any necessary permission before incorporating such materials into their submissions.
Submitted ideas are protected in the spirit of non-disclosure, and all submitted materials will be treated as company confidential. The only people with access to the entry materials will be judges and select members of the organising committee. Materials will not be distributed to any other party unless requested by a participant. No other provisions are made to protect intellectual property.
As an effort to support the innovation ecosystem, for research purposes, non-sensitive data may be shared with government agencies or partner organizations. The participant's personal identity, name, family name, phone number, address, or email address will not be used in any public collateral.
Participants are advised not to disclose critical information which would affect a successful filing of patent(s). All presentations are open to the general public, and some presentations may be videotaped.
Attendance by media personnel is expected in the final round(s). Any data or information discussed or divulged in public sessions by participants should be considered information that will likely enter the public realm, and entrants should not assume any right of confidentiality in any data or information discussed, divulged or presented in these sessions.
Decisions Regarding The Winners
The selection of the 'Winners' is at the sole discretion of the judges and the organisers from Social Alpha and partnering organizations. Best efforts will be made to make decisions in accordance with this document.
Throughout any and all phases of Techtonic, all decisions of the judges are final.
Disqualification And Organisers' Right To Amend Competition Rules
The organisers of Techtonics reserve the right to disqualify any Participant who is found to have violated the spirit of the program guidelines and terms and conditions stated herein. Disqualified participants shall forfeit any and all prizes awarded to them.
The organisers reserve the right to amend these rules at any point before the Closing Date of Techtonics in line with the overall goal of the program.
The indicated dates for Techtonics may be revised at any point of time by the Organisers. Any change in schedule will be suitably intimated on the Techtonics webpage and on other relevant platforms.
***
Privacy policy
Social Alpha is committed to respecting the privacy of users who access innovatealpha.org. This Privacy Policy will tell you (1) what information is collected when you visit our site or send us an email, and (2) how that information is used.
Web Server Logs
When you visit the Site, our web server may record the following information in its server log
your IP Address,
your username (if you have logged in as a registered user),
the URLs you have requested to access,
the dates and methods of requests,
the status code of your requests,
URLs of pages that referred you to the Site,
number of bytes transferred, and
your web browser and operating system platform.
Web server logs are retained on a temporary basis, during which time their contents are accessible to Site administrators, and then deleted completely from our systems. Unless required by legal process, we do not link IP addresses to any personally identifiable information. This means that user sessions will be tracked by IP address, but a user's identity will remain anonymous.
In addition, we ordinarily do not disclose to third parties Site usage by individual IP addresses, but we may do so in very limited circumstances when complying with law or legal process, working with consultants assisting us with fixing or improving the Site, or monitoring and improving the security of our network.
User Registration
Social Alpha has adopted a user registration option for visitors who want to take part in our challenge. To obtain a user registration, you must submit your first name, last name, email address and phone number to Social Alpha, along with a username and password that you create for user authentication purposes. The Site will publish your first and last name alongside any content that you post. The personal information and other information that you submit to us will be used for evaluating your application for the challenge.
Google Analytics
Innovatealpha.org uses Google Analytics software to perform Site usage analytics. Google Analytics collects anonymous information from users to help Social Alpha track Site usage and referrals from other websites. These data are used primarily to optimize the website experience for our visitors, but we may use the data as well to assist us in developing marketing plans for the Site.
Information collected and processed by Google Analytics includes the user's IP address, network location, and geographic location. Google Analytics acquires all its information directly from the user, by installing a cookie (see below) on the user's computer. The Site does not share any information it collects with Google, and Google Analytics does not collect any personally identifying information such as names, contact information, social security numbers or financial information. Accordingly, we cannot use any information acquired by Google Analytics to contact you directly.
Cookies
Cookies are unique bits of computer data that many major websites will transfer to your computer the first time that you visit. Cookies are stored on your hard drive and may be later accessed by the website to track prior usage. As noted above, Google Analytics will install a cookie on the hard drives of Site visitors
Email
We will only record your email address if you submit it to us as part of the user registration process. We will only use your email address for the purpose for which you have provided it — i.e., to respond to a message from you or to communicate with you regarding your user account.
Disclosure to Third Parties
We will not sell, lend, or disclose to third parties any information collected from visitors, except as disclosed in this Privacy Policy or in the event we are required by law to do so (i.e. to meet any applicable law, regulation, legal process or governmental request) or enforce applicable Terms & Conditions or protect against any harm to Social Alpha our users or the public as required or permitted by law. We may disclose information to employees, consultants and agents who have a legitimate need to know the information for the purpose of fixing or improving the Site and monitoring and improving the security of our network or for assisting us in evaluating your application under the challenge or for research purpose. We also reserve the right to disclose this information when special circumstances call for it, such as when disclosure is required by law or court order or when disclosure is, in our sole discretion, necessary to protect our legal rights, including intellectual property rights.
Other Websites
This Site may contain links to other web resources, including websites of organizations other than Social Alpha and other sister concerns that may transact on behalf of Social Alpha. The websites of our sister concerns, and other websites to which the Site links may also collect user-identifying information directly from you once you proceed to browse those sites. We are not responsible for the privacy policies of our advertisers, sponsors, vendors or other sites or businesses to which we provide hyperlinks or access. Please visit the relevant sites to review their privacy policies.
Data Security
We have in place physical, electronic and managerial procedures to protect the information we collect online. However, as effective as these measures are, no security system is impenetrable. We cannot guarantee the security of our database, nor can we guarantee that the information you supply will not be intercepted while being transmitted to us over the Internet.
Notification of Changes in the Privacy Policy
We will review our security measures and Privacy Policy on a periodic basis, and we may modify our policies as appropriate. We may also change or update our Privacy Policy if we add new services or features. If any changes are made, we will make appropriate amendments to this policy and post them at the Site. We encourage you to review our Privacy Policy on a regular basis.
Dismiss
For any assistance needed in filling the application form, please reach out to us at