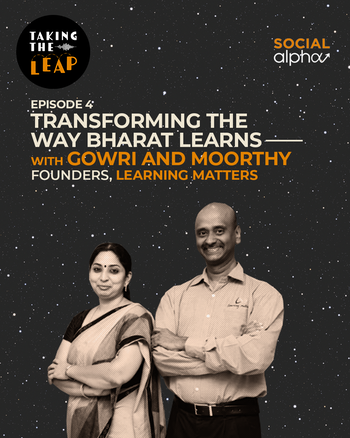 Transforming the way Bharat learns with Gowri and Moorthy, co-founders, Learning Matters
India's Edtech sector is going through a great phase right now with many promising startups raising multiple rounds of capital from investors. It is estimated that EdTech is expected to give a dozen unicorns in the next 5-7 years. While this is great news for the sector, what is not as much highlighted in this Edtech frenzy is the poor quality of learning that majority of our K-12 learners go through which is quite foundational for their future careers.
In our #ChildrensDay special on Taking the Leap, we caught up with the co-founders of our EdTech start-up
Learning Matters
-
Gowri
and
Moorthy
. Having worked in education technology for a long time, they knew that the industry largely focussed on supplementary education to the top tier of schools. Which meant there was a large population in semi-urban and rural India that was left underserved. Gowri, Moorthy and
Saras
, the other co-founder of Learning Matters decided to stop talking about it and take the opportunity in their own hands. That's how Learning Matters was born.
The start-up has developed its own version of Alexa for education called 'Tara' that uses voice-based AI that can repeat lessons, converse, provide feedback and correct mistakes repeatedly. Learning Matters is equipping teachers across the country to improve learning outcomes in basic subjects like Math and English.
Link to the book mentioned in the podcast:
Rework by Jason Fried
Listen to the Podcast