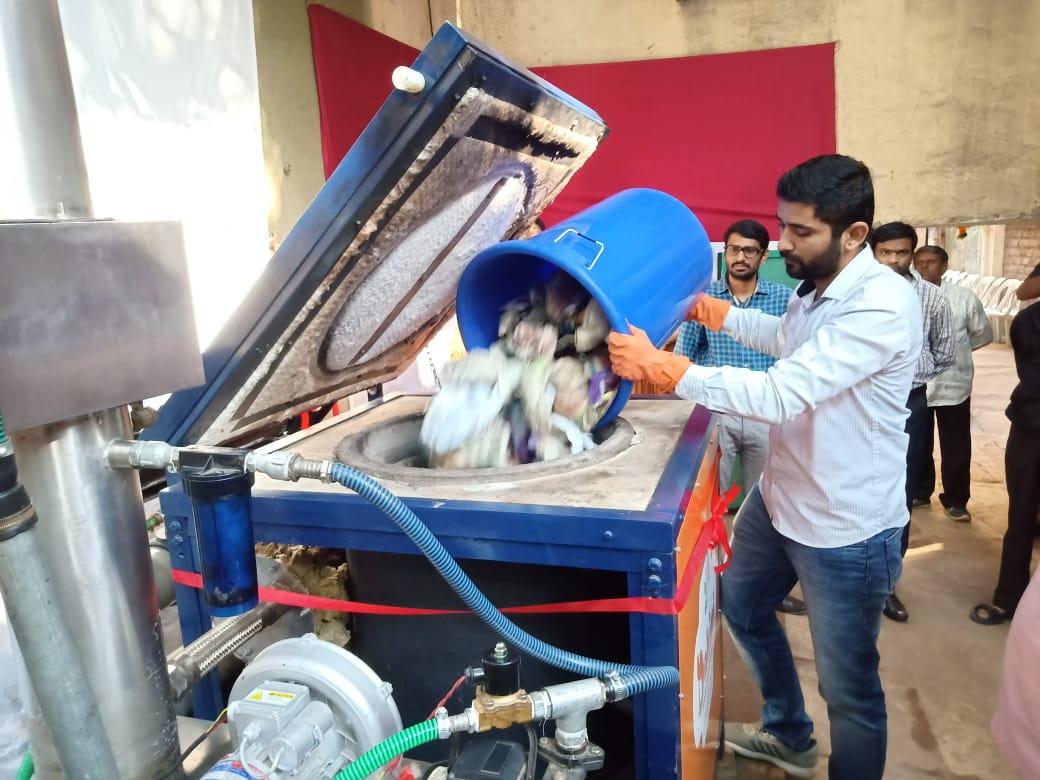 Menstrual or sanitary waste is one of the biggest issues the waste management industry is facing today. With no way to recycle, sanitary napkins lie in the landfills or are disposed in our water bodies, producing infections and lying untreated for 400-500 years. These used pads are also seen choking the drainage pipes and forced to be removed manually. The lack of access to appropriate waste management options lead to unhygienic use of otherwise safe absorbents. Additionally, the lack of access to safe disposal methods of sanitary napkins impact the waste collectors and other stakeholders within the waste value chain as well, The Menstrual Hygiene Alliance of India (MHAI) estimates that there are 336 million menstruating adolescent girls and women in India, of which 36% use disposable sanitary napkins. These 121 million women, when using an average of 8 pads per month, use and discard up to 12.3 billion pads annually. This has led to an annual burden of 113,000 tonnes of menstrual waste generation – a number that will only continue to grow.
It is promising to observe the growing number of initiatives working on menstruation awareness and health, yet, a systematic approach which considers disposal as a part of the end to end menstrual hygiene plan has not surfaced. This gap results in a plethora of issues including, increase in the number of female adolescent school drop-outs, contaminated landfills, polluted water bodies and health hazard for people who work with waste.
The Government's mandate to install incinerators, as a part of the "Swachh Bharat, Swachh Vidyalaya", for the processing of sanitation waste is a significant step ahead. Compliance with such rules can help India manage sanitary waste as the awareness about menstrual hygiene rises and cheaper sanitary pads replace traditional solutions. However, these incinerators raise safety and environmental concerns. To address this need, Green Earth Equipment, a waste management start-up, has designed "Dahini", sustainable and economical sanitary waste incinerators. Dahini's responsible design keeps the cost low, provides an end to end solution to menstrual waste management and ends all manual intervention in sanitary waste processing.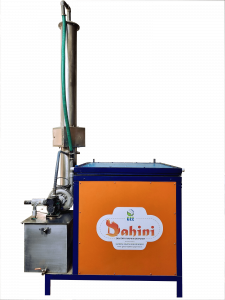 Dahini has a heat resistant internal chamber made of ash, composed of silicon, aluminium, iron and calcium oxides. Unlike metal body incinerators, Dahini's insulated body reduces the risk of burning for the user and increases the life of the burning chamber. Also, one of the proprietary features – the in-built pollution filters minimize the release of particulate matter. The incinerator generates temperatures as prescribed by CPCB with cycle duration of 15-minutes. High level of heat ensures complete incineration of all waste components. It also prevents the release of toxins and micro plastics into the environment.
Dahini is designed to work at various load levels. Its smallest version can incinerate up to five pads at a time. Larger units meant for offices and public places can incinerate around 25 pads at a time, and even larger ones can process up to 1000 pads, including used diapers of adults and kids per cycle, addressing requirements of large residential complexes and communities.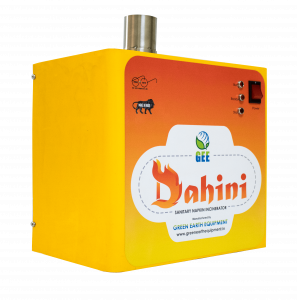 Ravindra Gadre and Sayali Ponkshe, the two founders of Green Earth Equipment, complement each other in their mission of finding innovative and socially impactful waste management solutions. Ravindra has over three decades of experience in the small scale machines manufacturing. At the same time, Sayali moved from her corporate career to start a volunteer-based nonprofit to address environmental needs by creating better-designed waste management practices. "We are a team of compassionate innovators. We are revolutionizing the way people manage their waste by introducing sustainable and economical solution for each kind of waste that they produce and dispose them at source." says, Ravindra Gadre.
Sayali Ponkshe, says, "It all started when I used to travel to work every day passing by the Mutha River, only to see how filthy and murky we have made it with our waste. And unfortunately it is not only with our rivers; we have destroyed and contaminated almost every beautiful part of the earth with our waste. With this, we are not just playing havoc with the ecosystem and killing thousands of species but this waste is also a great contributor to climate change. Something had to be done, and that is when me and Gadre Sir came together to form this company. We manufacture economical and sustainable equipment to solve the problems of waste management. We have a vision of making India a ZERO waste country. And we are doing that, with our consistent innovation into making great products for each category of waste, one at a time."
Why are we investing in GEE
Social Alpha is committed to work with entrepreneurs and innovators who are on a mission to create large-scale social, economic and environmental impact. Our investment in GEE's vision of making India a country with world-class waste management practices is another step towards promoting impactful entrepreneurship in India. Dahini, as a solution has the opportunity to cause a profound impact while addressing a market with a huge need. The existing and upcoming government regulations regarding sanitary waste disposal will require menstrual hygiene solutions to be a part of the community spaces – also creating a demand for such products that will help with compliance. GEE wants to tap the market potential by preparing for its future and aims to change the way India deals with its waste.