Early October, Nabventures, the venture growth equity fund of National Bank for Agriculture and Rural Development (Nabard) and Social Alpha agreed to invest USD 500,000 (around Rs 3.7 crore) as seed funding in Satyukt Analytics. The satellite data analytics startup had earned the distinction of being "one of the few examples of academic research resulting in a successful commercial venture which can generate financial returns to investors and have a significant social impact as well," said GR Chintala, chairman of Nabard and Nabventures, defending his decision.
In short, the firm's activities are both economically viable and farmer-friendly.
Satyukt has been on the roll since inception in July 2018 having won a string of awards and grants, notably the BIRAC-Biotechnology Ignition Grant (BIG) of Rs 48 lakh, the first Social Alpha Quest for Agritech Innovations, and the top honours in National Awards for e-Governance 2020 conducted by the Government of India. To understand why Satyukt's work is being widely feted, one needs to train sights on rural India where farming is the chief occupation.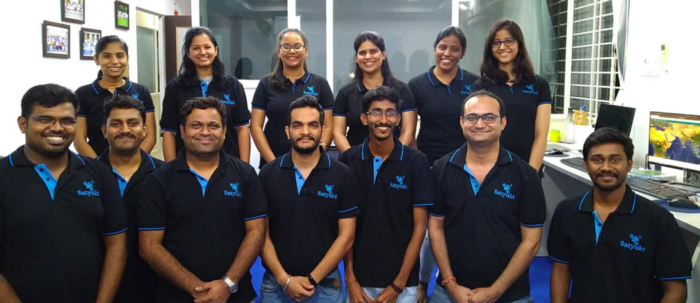 Indian agriculture in dire straits
Indian agriculture, once considered a global powerhouse and the primary source of livelihood for 58% of the country's population, is going through a particularly difficult phase. It is dogged by poor productivity and its most obvious fallout, rural poverty. Grappling with shortage of surface water and depleting groundwater reserves, farmers now must contend with extreme weather conditions and pest attacks brought about by climate change. All these closely inter-connected factors will invariably result in an acute food crisis even as it pushes cultivators into abandoning agriculture.
At this critical juncture, the role of actionable intelligence to determine the quantum of inputs in farming cannot be overstated. This is when Satyukt steps in. Armed with proprietary algorithms, it analyses satellite data and issues advisory that enables farmers to determine crop health and improve crop yield while minimizing the use of precious resources like water. Since this data is mostly derived from public satellites, Satyukt charges a mere Re 1 for an acre, per day.
Core team of competent professionals
The name Satyukt was derived by concatenating the first names of the two co-founders, Dr Sat Kumar Tomar and Dr Yukti Gill. Both come with sterling academic credentials.
Dr Sat, the firm's CEO, has done Masters in Water Resources and Environmental Engineering from the prestigious Indian Institute of Science (IISc); PhD in Hydrology and Water Resources Science, from the same institute; and Post Doc from the Centre d'Etudes Spatiles de la BIOSphere (CSBIO) in Toulouse, France. He has been working in the field of remote sensing for the last 14 years.
Dr Yukti, MD, completed Masters in Organizational Behaviour from Banaras Hindu University, followed by a PhD in Organizational Behaviour from BHU.
Key services and clients
Satyukt's core team is competent in remote sensing, which sets it apart from the rest of the competition. "We work in two key areas: 1) Crop Health Monitoring 2) Crop Area and Risk Management. The information we provide on the water table and soil moisture at the root level (up to 60 cm beneath the surface) helps determine crop water requirement and better management of irrigation water. The algorithm also provides insights into what the likely produce would be, and the inputs required to improve the yield," says Dr Sat.
Now, Satyukt has also started giving out pest and disease advisory so that farmers restrict the use of pesticides.
"We specialise in processing multi-satellite Synthetic Aperture Radar (microwave band) based data that can be gathered round the year under all weather conditions. Since we work on global satellite data, we have tested our algorithms in Australia, New Zealand, France, Spain, UK, US and Latin America. Abroad, very few companies are doing interesting work in the microwave domain," he says.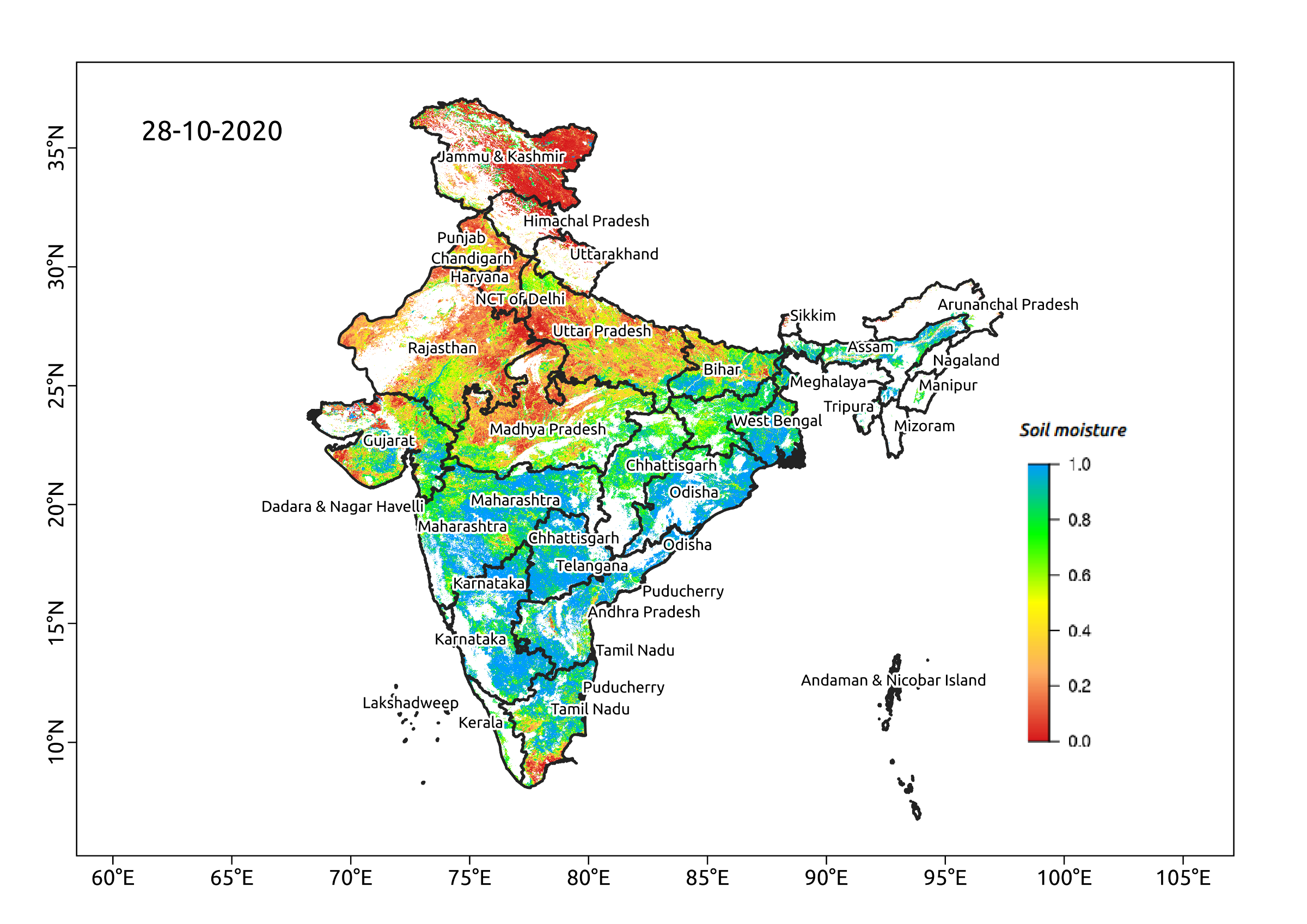 Satyukt's other field of expertise, Crop Area and Risk Management, is valued by the insurance sector as it promptly assesses the loss incurred by farmers due to flood or drought. "Through satellite remote sensing, we can determine the extent of damage in a large area and provide specific information to these companies so that compensation is swiftly disbursed to farmers," says Dr Sat.
Satyukt mostly provides B2B and B2G agricultural data and services, catering to the needs of Central and state governments, Farmer Producer Organisations, and Agri input and output companies.
It reached out to 10,000 farmers in eastern UP through the network of Social Alpha and PANI, a social development organisation. It has recently signed an MoU with the Telangana government to initiate a pilot project. In collaboration with a Bengaluru-based agri-input company, Satyukt is working closely with pomegranate farmers.
Expanding footprint
Dr Sat is confident about expansion because satellite data is eminently scalable. "We hope to have a pan-India presence in the next 3–5 years," he says. That's hardly a tall order in the current circumstances when Indian agriculture desperately needs to adopt practices that uses cutting-edge technology to make farming profitable and sustainable while protecting the health of the environment.
Social Alpha's role
Social Alpha chose to invest in Satyukt primarily because it was bringing in disruptive technology in the agricultural sector that would benefit farmers and FPOs. "We were mindful of the latest technologies in the field, such as IoT/farm monitoring, but Satyukt was doing the same thing at just a fraction of the existing costs," says Ganesh Kaveeshwar, the portfolio manager handling the startup. In a short period, it rapidly gained traction among the stakeholders.
Satyukt had also won the SA Quest for Agritech Innovations 2019, under the IAIN (Indian Agriculture Innovation Network) programme, which was jointly organized by the UP government, IIT-Kanpur, and Bill & Melinda Gates Foundation. The company had to undergo a rigorous evaluation process. After winning the challenge, they were offered incubation at SA. "We helped them with fund-raising and pilot support. They have collaborated with Paani Foundation and Collectives for Integrated Livelihood Initiatives (Cini) on a pilot project involving farmers in UP. Through workshops organized by SA, the startup got opportunities to connect with industry mentors and agri experts. It was SA that introduced Satyukt to Nabventures," says Ganesh.
"We also noted that the team was made up of erudite and experienced members who have worked in the remote-sensing domain for 15–20 years and knew how to commercialise such technologies," he says.
With SA's support, the startup has productized two of their main technologies: Crop Health Monitoring (CHM) for farmers and Crop Area Risk Monitoring (CARM) for large agri output companies and the insurance sector. CHM is currently being tested by 10,000 farmers in UP, thanks to SA and its IAIN partners.