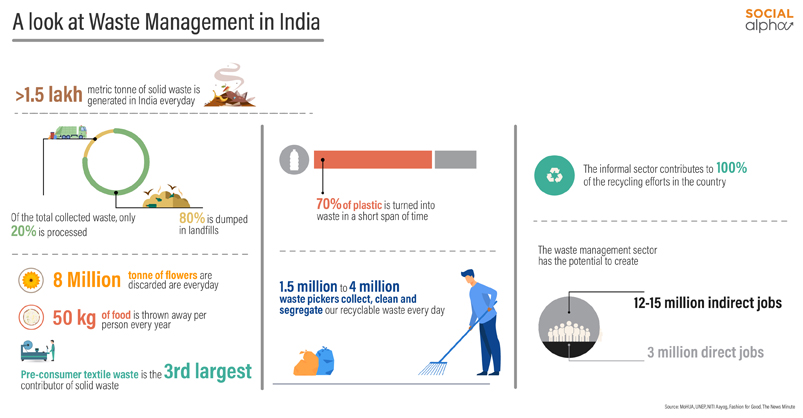 An estimated 1.5 million to 4 million waste pickers collect, clean, sort and segregate our recyclable waste every day in India. Their work fills the gap left by municipal and other waste management authorities while contributing to local economies, public health, and environmental sustainability. Most waste pickers across India work for long hours in unsafe and unhealthy working conditions. They earn low or irregular incomes and lack access to information, markets, finance, and technology.
We spoke to our partner Saamuhika Shakti and five high-impact waste management start-ups; Phool, MuddleArt, Loopworm, ZeroPlast Labs and Swachha Ecosolutions to understand how waste pickers and tech innovations play a crucial role in managing inefficiencies in the waste sector and fighting climate change.
Saamuhika Shakti is a collective impact initiative by H&M Foundation in India and works towards helping waste pickers of Bengaluru gain agency to improve their and family's lives. Social Alpha's Techtonic – Innovations in Waste Management Program, in partnership with H&M Foundation, is part of the Saamuhika Shakti initiative.
Improper waste management arguably is one of the biggest climate change threats of our time. What happens when waste pickers don't show up for one day?
 Saamuhika Shakti: Waste pickers play an essential role in keeping our cities clean, enabling circularity. If they don't show up, our waste wouldn't be recycled; harming the environment and leading to severe health issues. Piled up waste has even fewer chances of getting properly segregated & recycled, burdening our already strained landfills. There is also an economic cost! A lot of people depend on waste streams for their livelihood, and a day's loss of income puts a massive strain on finances and daily needs.
How can tech innovations address inefficiencies in waste management and drive climate action?
 Saamuhika Shakti: India generated 147,613 MT solid waste/day by Jan 2020 as per the MoHUA. MoEFCC data shows that only 75–80% of the total municipal waste is collected, with ~22–28% processed/treated. Tech and innovations are needed to scale up recycling efforts. However, any innovation should be inclusive. The people who play the central role in waste management – waste pickers – should also benefit economically, or we will be only exacerbating inequality. Waste pickers are also entrepreneurs and have specialised skills. They have a deep understanding of the different materials & their value. The solutions proposed should tap into their innate knowledge and expertise and provide dignified employment opportunities in the value chain.
MuddleArt: Currently, the primary cause of inefficient waste management systems is the gaps in the supply chain. This sector needs innovative solutions to plug these supply chain gaps to drive circularity. Innovators can develop  data-centric traceability systems to facilitate the implementation and reporting of waste management and processing activities.
Swachha Ecosolutions: Sustainable waste management models are an efficient system to manage the current waste in India. Maximum recovery and recycle is the mantra in India and for that to be achieved, innovations and technology interventions is key. Any change or a solution is directly linked to the cost, therefore the tech innovation should be technically feasbile, economically viable, easily replicable, low in serviceability and minimum human intervention. There are hundreds of "Jugad" technologies which are available with Indian Waste Formal/Informal communities such as Milk pouches washing units(Dolly), wire slitting machine (Trixie),waste sorting machine (Jhatak) and many small tools, these should be identified and improvised to the best locally developed technologies with automation, IoT and many others Overall we believe only mantra as a recycler "waste is not a waste until it is wasted " as the world is running out of resources .
ZeroPlast Labs:  We have developed an innovative technology to convert biomass waste into a new material that reduces dependencies on oil-based plastics. It uses recycled biomass waste to extract cellulose, and develops reusable products which biodegrade into the organic matter once discarded.
Loopworm: Technology-led innovations are going to be at the centre of advancement in waste management & their role is only going to grow as the industry advances. Right now the industry is in an early phase, with the focus being on segregation & collection while treatment is at an abysmal 19%. Technology has helped immensely in efficient segregation. In the next phase, with increased focus on processing, we expect to see innovative technological solutions focused at processing and treatment.
 Waste pickers in India earn a living by diverting waste from landfills & recycling approx. 66% of solid waste, keeping our cities clean. What can be done to integrate them into the formal value chain?
Saamuhika Shakti: Waste pickers are yet to gain due recognition and support from the formal structures of governance. Waste pickers are not 'employed' and do not have an assured monthly wage, ID card, access to Govt. schemes or safety equipment. Hence, at Saamuhika Shakti, we use the term informal waste pickers. Bengaluru is among the first cities in India to recognise the role waste pickers play and have carved out clear guidelines for integrating their support into the formal waste management structures. They are responsible for managing the Dry Waste Collection Centers (DWCC) in the city that assures steady employment.
Phool: We would need to create an all-encompassing regulatory body to ensure that our waste pickers get recognised. Establishing standards with respect to income, working conditions and subsidies for education and health facilities will have far-reaching impact.
MuddleArt: We need to focus on building formalized, inclusive waste management systems that create jobs for the informal players that already exist in the sector instead of replacing them. Integration into the formal value chain can be facilitated through awareness of the value of formalization, upskilling and technology innovations to mend supply chain gaps instead of replacing workers.
Loopworm: The role of the waste collectors is limited to collection as of now, and the price they get for the collected waste doesn't compensate them fairly. Efforts need to be made to bring them in the pre-processing phase so that the value of the collected waste goes up. Also, ULBs should register waste pickers, and provide them with health insurance, safety equipment, and devices to make their work easier.
ZeroPlast Labs: Waste pickers and waste management communities are an integral part of  ZeroPlast Labs. Biomass waste collected by waste pickers is upcycled into value-added products by  simple modular machines. The system will be installed in a decentralized manner across India by collaborating with local waste management communities to upcycle the regional biomass waste into feedstocks for bioplastics and composites.
What role does gender play in the informal waste management sector?
Phool: Women's participation in the informal sector is unregulated and they engage primarily as daily wage workers. As a result, women on an average earn half of that of men in the sector. At Phool, we have given these women a formal platform to earn better livelihoods and teach them the craft of converting flower waste into value-added products. They now feel equal in the society and have a steady source of income that helps them take better care of their families and provide education to their children.
Saamuhika Shakti: There are a significant number of women engaged in informal waste picking. However, they continue to face multiple challenges. Formative research conducted by our partner BBC Media Action reports that female informal waste pickers are more vulnerable to harassment. They work at odd hours of the day and dress in torn old clothes to avoid being noticed. However, with concerted effort, these challenges can be overcome. Sampangi, a waste picker who has turned entrepreneur and is managing a Decentralized Waste Collection Centre, recently shared her story with us.