Vision
With India's megacities swelling rapidly and new cities and towns burgeoning, there is a growing concern and fundamental need to improve the quality of life for the common urban citizen. Systems responsible for delivering quality public services need innovative solutions to be more effective. Innovations that are capable of solving the problems related to quality of life, quite often do not get access to these systems for deployment. The core objective of the Social Alpha Quest for Urban Livability is to curate and support technology innovations that, in partnership with the systems, can solve problems of urban livability in a scalable and a sustainable manner.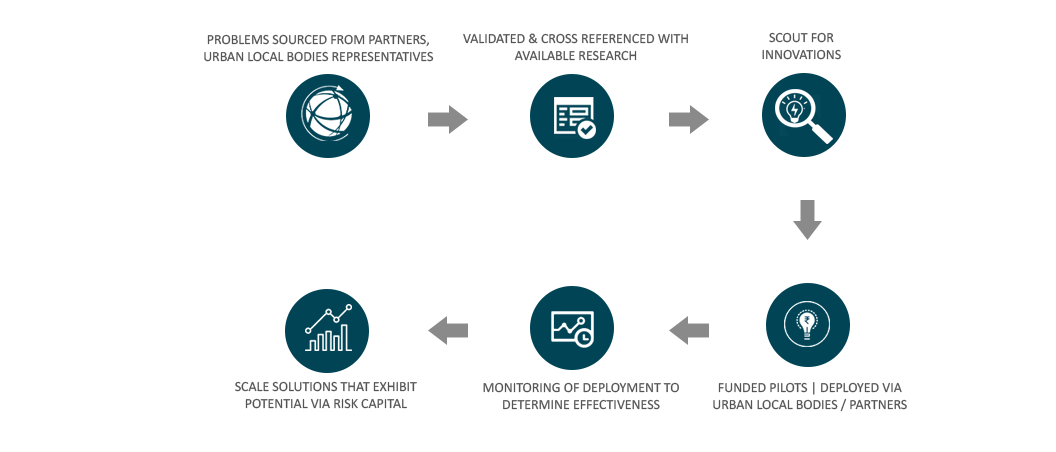 PROGRAM OFFERINGS
UP TO 10 WINNERS TO RECEIVE
 Pilots with urban local bodies (ULB's), state governments or implementation agencies
Access to seed capital of up to INR 1 crore per winner
Hands-on support for business planning and go-to-market strategy
Access to a curated set of knowledge offerings
Mentorship by a set of qualified global and local experts
Gateway to a diverse and large investor ecosystem
FOCUS AREAS

Waste
Technologies for waste segregation
Solutions to promote transparency in waste supply chains
Extracting value from waste through sustainable and efficient processes

Water and Sanitation
Fecal sludge management
Treatment of wastewater
Sustainable and effective utility solutions for urban water
Water pollution and contamination- monitoring and treatment

Housing
Sustainable materials for inclusive living
Design interventions for sustainable housing

Municipal Systems
Data driven governance
Systematic citizen participation and transparency

Pollution
Solutions to curb diesel and vehicular related pollution such as better fuel alternatives, efficient traffic management and better engineering in vehicles such as retrofittment of engines to upgrade to latest emission standards such as Euro6.
Innovations that can measure and monitor road dust and use of debris in sustainable building and construction practices.
Innovations that can effectively transform waste products (dry waste, leaves, crop burning) to value, preventing them from becoming air contaminants.
Innovative municipal and governance systems that can record and analyse data pertaining to air pollution for evidence based policy making.

Mobility
Traffic management systems
Smarter public transit systems
Who can Apply?
Social Alpha is looking for start-ups/entrepreneurs that have Innovations that can improve city level outcomes and enable higher quality of life in Urban India.

Solutions that are replicable and can be scaled in other cities, communities and geographies

Innovations that are at the prototype stage or further and can be readily piloted in an urban use-case

Timeline
March 6, 2019

Call for applications
The applicant will be required to submit an online application following registration on complete web link. Only applications submitted online will be accepted for further evaluation. No email or hard copy applications will be accepted.

June 02, 2019

Application Deadline
Window for submission of application closes.

June July

Premilinary screening and evaluation process
All applicants will be screened for eligibility checks and appropriateness for further evaluation.

August 19, 2019

Announcement of finalists
Finalists will be announced on the basis of jury evaluation. Communication will be sent to finalists for pitch presentation.

September 27, 2019

Pitch to grand jury and announcement of winners
Finalists will present their pitch to the grand jury. List of winners will be announced.
For any assistance needed in filling the application form, please reach out to us at